Information and Main Contacts
Information:
Copy and paste this link to your browser for South Ayrshire Sports Council's video on South Ayrshire Table tennis Club:
https://youtu.be/G1pfEYXNJc8
South Ayrshire Table Tennis Club is now established at Mossblown Community Centre. 19 Annbank Road, Mossblown. (Postcode: KA6 5BH). Every Thursday from 6pm.
And at St Andrews Church Hall, Park Circus, Ayr. KA7 2DC from 7.30pm on Tuesdays.
We cater for all ages from 8 to 80+ and all standards from junior beginners to international players.
The Junior Section will recommence coaching sessions on Tuesday 3rd September 2019 at St Andrews Church Hall, Park Circus, Ayr KA7 2DC. From 6pm to 7.30pm.
The club competes in the Scottish National League and the West of Scotland Table Tennis League at both Junior and Senior level.
We have National Champions at Junior, Senior and Veteran levels as well as internationalists at all three levels.
Our club has been awarded the South Ayrshire Sports Council's Club Ready Gold Award. S. Ayrshire Junior Sports team of the Year 2015 and 2019- and Senior Team of the Year 2018.
SATTC works closely with South Ayrshire Active Schools, providing after schools clubs, demonstration days school holiday activities and we organise the annual S. Ayrshire Senior Schools Championships.
We are in partnership and affiliated to Table Tennis Scotland and South Ayrshire Sports Council.
Contacts:
Adult Membership: Roy Claxton (07745 385800)
Email, royclaxton2015@hotmail.com
Junior membership: Jim Dewar (07766 713542)
Email, bigyoss@msn.com
Club Secretary: Brenda McDonald (07708 004021)
Email, b.mcdonald8@icloud.com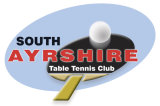 Ref:
Date:
Location:
Photographer:
Ref:
Date:
Location:
Photographer:
SATTC Membership Policy

Due to the club being in the very healthy position of being at full capacity, the Committee has been obliged to implement a fairly rigid application of its rules concerning the allocation of playing time and membership.

These measures will hopefully go some way towards easing the pressure on the capacity that we currently have:

1. With the exception of current members, adult recreational players of a low or beginner standard will unfortunately not be offered membership until we are able to increase our capacity to fit in more than six tables.
2. New adult members are not expected to be of league standard, but must already be at a level where they provide reasonably competitive opposition to intermediate junior players during our practice sessions. Membership is not therefore automatic. It will be granted at the discretion of the Committee.
3. The club maintains a waiting list. Those would-be members on the list will be informed when there is room on the membership roll for them to join if they still wish to do so.

Potential club members will of course be kept informed of any alterations to the above policy.