Welcome to SATTC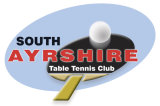 Supported by Carrick Futures with funding from ScottishPower Renewables' Mark Hill and Arecleoch wind farms
CLUB PREMISES CLOSED TFN DUE TO COVID-19 RESTRICTIONS

Rebecca's Triple Success at the 2020 Scottish Nationals (See News link)
CONGRATULATIONS to SATTC Juniors: voted S. Ayrshire Junior Sports Team of the Year 2019. Fantastic achievement.
SATTC 'A' win the 2019 Div1 Cup Final against League Champions Glasgow South 'A'
SATTC 'B' clinch the WoSTTL 2019 Div3 title and complete "the Double" with a 5-0 win in the Div3 Cup Final
South Ayrshire Table Tennis Club are the back-to-back 2016/17 and 2017/18 West of Scotland Table Tennis League Champions and 2019 West of Scotland Junior League Champions.
Roy Claxton wins the 2019 Scottish Veterans over 60s title. Remaining unbeaten all season.
And is voted S. Ayrshire Sports Coach of the Year 2019.
Harvey McDonald qualifies for 2019 Scottish Schools teams.
*** KEEP UP TO DATE BY MONITORING THE NEWS PAGE (Link above) ***